Description
Features
Details
Where to Use
Installation
Reviews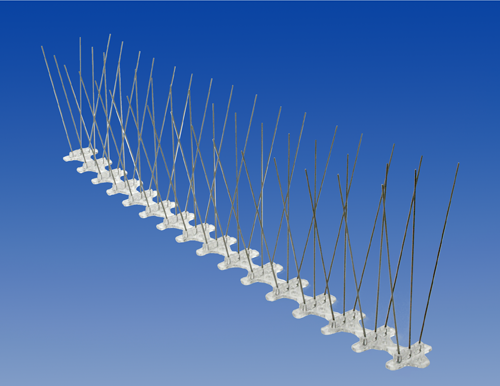 Mega Bird Spike from Bird-B-Gone is a physical bird deterrent used to prevent large birds from landing or roosting.
Birds cannot land on the un-even surface created by the spikes and will move on to a better spot. Bird-B-Gone Mega Bird Spikes are an effective, humane solution for deterring large birds from unwanted areas.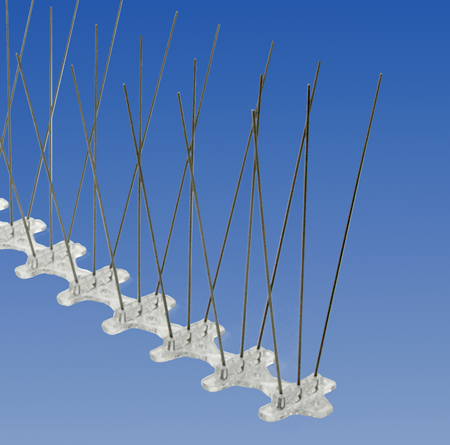 ♦ Tallest Bird Spike Deterrent Available!
♦ Humane, will not harm birds!
♦ Stainless Steel pins are virtually invisible!
♦ 10 year guarantee!
♦ Will Not Cut or Injure the Installer!
♦ No-Gap Design. Best Spacing to Deter Pest Birds from Roosting or Nesting!
♦ U.V. Protected polycarbonate base can easily bend to curved surfaces
The Bird-B-Gone Difference:
We manufacture our products in the United States ensuring they meet the highest standard of quality in the industry. All products go through an extensive quality control process before they leave our warehouse. We stand behind the quality of our products and encourage customers to compare our products with competitors' in order to see the Bird-B-Gone difference!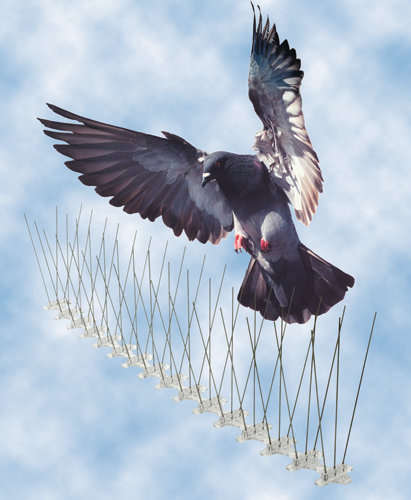 Mega Bird Spike comes in two-foot sections, 50 feet per box. Each spike strip measures 7" tall by 5" wide, and can cover ledges between 3" and 7" wide. The base of the spike is 1.5", and can be glued, screwed, or tied down to most surfaces.
Mega Spikes are made by Bird-B-Gone in the USA and carry an industry leading 10-year guarantee.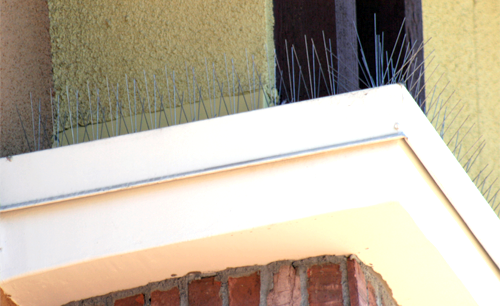 Applications:
Mega Spikes are ideal for use in a multitude of settings including:
♦ Ledges
♦ Rooflines
♦ Parapet walls
♦ Eaves
♦ I-beam
♦ Windowsills
♦ Light posts
♦ Signs
♦ Awnings
♦ Canopies
♦ And More
Effective For:
Mega Spikes are designed for large birds including:
♦ Gulls
♦ Cormorants
♦ Vultures
♦ Raptors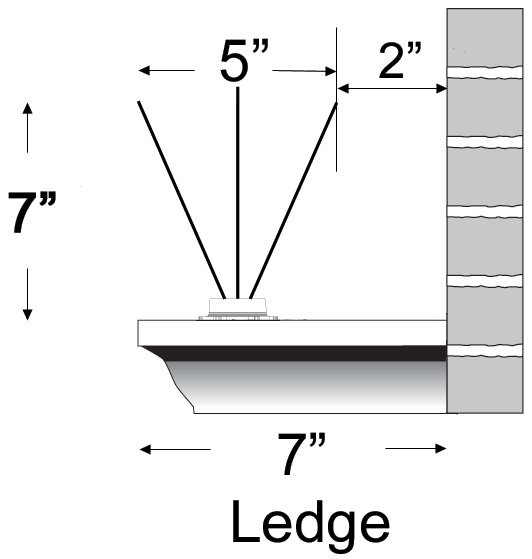 Mega Bird Spike is easily installed using adhesive or screws. The 2-foot sections have pre-drilled holes along the base, and can be glued, screwed, or tied down into most surfaces. Installation Instructions
If you have questions on installing this or any other Bird-B-Gone product, please call us at 1-800-392-6915 or email nobirds@birdbgone.com.