Description
Features
Details
Where to Use
MSDS
Installation
Migrate Goose Repellent is a non toxic liquid goose repellent used to make grass areas unpalatable to geese.

The active ingredient in Migrate Goose Repellent is Methyl Anthranilate, a non toxic grape extract proven to be effective in repelling pest birds. The extract irritates birds' trigeminal nerve and mucous membranes through entry in the eyes, nose or mouth. Birds do not like the sensation caused by the extract and will take leave treated areas.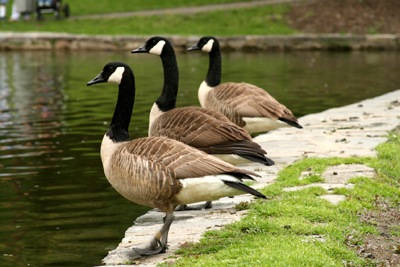 ♦ Keeps property clear of pest goose droppings
♦ Low Cost / Effective solution
♦ Geese will find treated area "unpalatable" and will leave
♦ Simple / Easy to apply
♦ Rain / Water will NOT wash off product
♦ Will not harm people, animals, ducks or geese
♦ Each case comes with 4 one gallon bottles
♦ One gallon treats 16,000 sq. ft

The Bird-B-Gone Difference:

We manufacture our products in the United States ensuring they meet the highest standard of quality in the industry. All products go through an extensive quality control process before they leave our warehouse. We stand behind the quality of our products and encourage customers to compare our products with competitors' in order to see the Bird-B-Gone difference!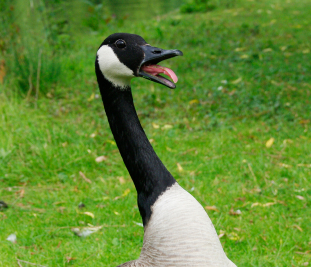 Migrate is a liquid goose repellent designed to keep grazing geese away from grass and shrubbery. Migrate is made from a grape extract, methyl anthranilate, that geese cannot stand, but is safe for pets and humans. When Geese go to graze on treated areas, they will realize there is no longer a food source, and move on. Migrate lasts 3 months outdoors, and won't wash off with rain or water.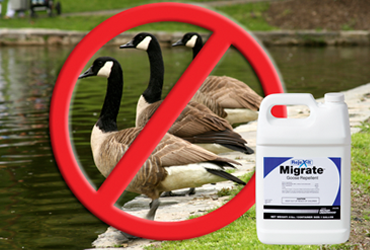 Migrate Goose Repellent is applied to grass areas where geese have become a nuisance:
♦ Parks
♦ Shorelines
♦ Golf Courses
♦ Cemeteries
♦ Lawns / yards
♦ Landscaping
♦ Shrubs
Effective For:
Geese!
For the Material Safety Data Sheet on this product, please visit the link below.
MSDS (pdf)
Migrate turf spray is a liquid concentrate. You simply mix one part concentrate with 20 parts water. Before applying Migrate, you will first want to mow the lawn area you wish to treat. Migrate Goose Repellent can be applied with any simple hand held sprayer, commonly found at hardware stores. After the first application, you will want to wait about a week, and then repeat the process.
If you have questions on installing this or any other Bird-B-Gone product, please call us at 1-800-392-6915 or email nobirds@birdbgone.com.