Stainless Steel Bird Spikes
Regular Price: $12.00
Special Price: $10.50
Regular Price: $15.00
Special Price: $9.50
Regular Price: $255.00
Special Price: $231.00
Regular Price: $225.00
Special Price: $205.00
Regular Price: $172.00
Special Price: $156.00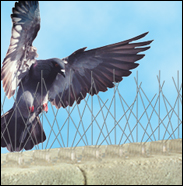 Bird-B-Gone Stainless Steel Bird Spikes come in two-foot sections, 50 feet per box, and are made of stainless steel pins in a U.V. protected polycarbonate base. The spike strips are available in four widths; (1", 3", 5" & 8") to match the surface being treated.
The base of the spike strip is 1.5" wide and can be glued, screwed, or tied down to most surfaces.
The spikes are made by Bird-B-Gone in the USA and carry an industry leading 10-year guarantee.