Description
Features
Details
Where to Use
Installation
Mist Net from Bird-B-Gone is a simple, humane way to capture and release trapped birds from enclosed areas.
Mist Net is made from extremely fine fibers, when the netting is hung directly in birds' flight paths, birds will fly into the net, becoming immobile, making it easy to remove them and set them free outside of the structure.
♦ Mist Net humanely captures birds for release!
♦ Made from extremely fine fibers that birds cannot see!
♦ Humane, will not harm birds!
♦ Adaptable! Use with poles or hang directly from overhead beams!
♦ U.V. stabilized
♦ Available in 4 sizes!
♦ Ideal for box stores, warehouses, grocery stores or other indoor areas where birds get trapped!
The Bird-B-Gone Difference:
We manufacture our products in the United States ensuring they meet the highest standard of quality in the industry. All products go through an extensive quality control process before they leave our warehouse. We stand behind the quality of our products and encourage customers to compare our products with competitors' in order to see the Bird-B-Gone difference!
Mist Net is used to help capture and release birds that have found their way into unwanted areas. The netting is made from a strong, UV-stabilized lightweight fiber that is nearly invisible to birds.
Bird-B-Gone offers Mist Net in four different sizes: 7'x10', 10'x20', 10'x30' and 10'x40'. Mist Net is designed to capture multiple birds with one net, and can be hung from rafter areas or supported with poles.
Mist Netting is ideal for enclosed areas that birds have flown into including:
♦ Warehouses
♦ Grocery Stores
♦ Storage Facilities
♦ Big Box Stores
♦ Air hangars
♦ Garages
♦ And More!
Mist Netting is effective for most species of pest birds including:
♦ Pigeons
♦ Grackles
♦ Starlings
♦ Swallows
♦ Gulls
♦ Sparrows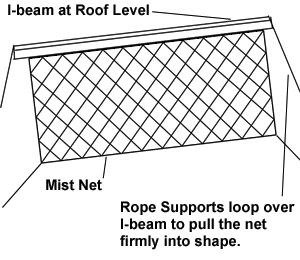 Installation Instructions (pdf)
Mist Netting should be placed in the direct flight path of the trapped birds so they will fly into the net at their normal flying speed. Avoid fitting the netting near landing areas as the birds will be slowing down for a landing.
You may need to "herd" the birds into the Mist Netting by using laser lights or sound. It's important to check Mist Nets on a regular basis to ensure birds are removed as soon as possible after they are caught. For the complete installation guide, please click on the link above.
If you have questions on installing this or any other Bird-B-Gone product, please call us at 1-800-392-6915 or email nobirds@birdbgone.com.