Description
Features
Details
Where to Use
Installation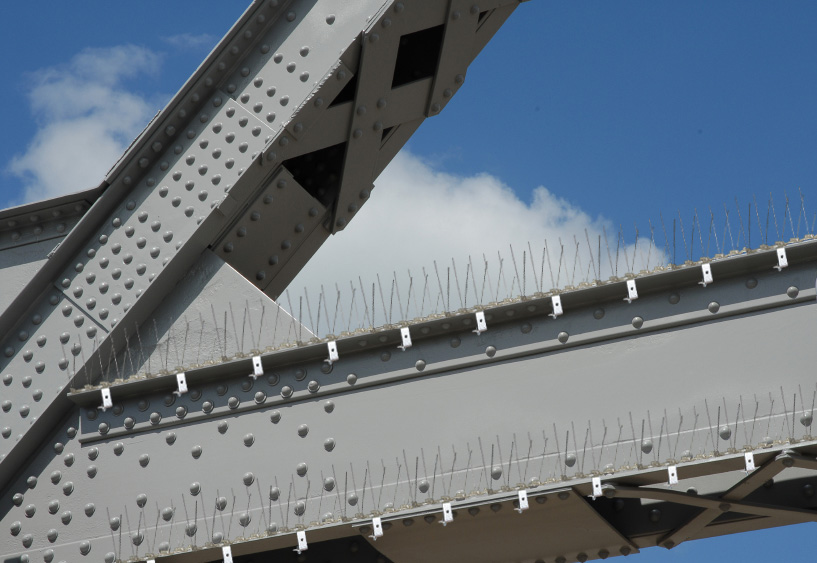 Girder Bird Spikes from Bird-B-Gone are an effective, humane way to prevent large birds from landing on girders or I-beams.
Birds cannot land on the un-even surface, or will be blocked from the area and will move on to a better spot. Use attached the C Clamps to connect the spikes to the girder and create bird free areas.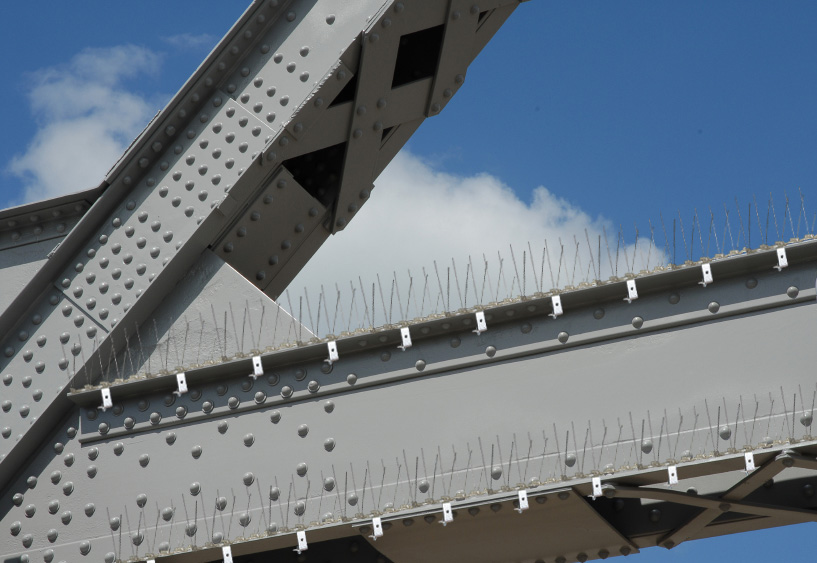 ♦ Longest Industry Guarantee -- 10-Years!
♦ Fits onto ANY / ALL Girders!
♦ Available in three widths: 3", 5" & 8" wide!
♦ Made by Bird-B-Gone in the USA!
♦ Ideal where clean up of debris or droppings isn't possible!
♦ Will Not Cut or Injure the Installer!
♦ No Need for Separate Clips or Hardware!
♦ Stainless Steel Spikes - Virtually Invisible!
The Bird-B-Gone Difference:
We manufacture our products in the United States ensuring they meet the highest standard of quality in the industry. All products go through an extensive quality control process before they leave our warehouse. We stand behind the quality of our products and encourage customers to compare our products with competitors' in order to see the Bird-B-Gone difference!
Girder Spikes from Bird-B-Gone come in standard two foot sections and have "c" clamps along the base. The clamps are adjustable to fit any size girder. Girder spikes are sold 50 feet per box and are available in 3 sizes; 3",5", and 8", to match the width of the girder or I-beam being treated.
Girder Spikes are made by Bird-B-Gone in the USA and carry an industry leading 10-year guarantee.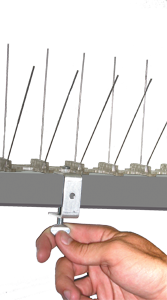 Applications:
♦ Girders
♦ I-beams
Girder Spikes are effective for:
♦ Pigeons
♦ Crows
♦ Gulls
♦ Vultures
♦ Raptors
Girder bird spikes come in 2 foot long sections, each strip has 3 adjustable "c" clamps. The "c" clamps can be adjusted to fit any size girder; you simply unscrew the bolt to fit the clamp over the lip of the girder, and then tighten the screw to hold each strip in place. It is important to clean out any nesting materials before installing the girder spikes.
If you have questions on installing this or any other Bird-B-Gone product, please call us at 1-800-392-6915 or email nobirds@birdbgone.com.