Kit Includes
Description
Features
Applications
Reviews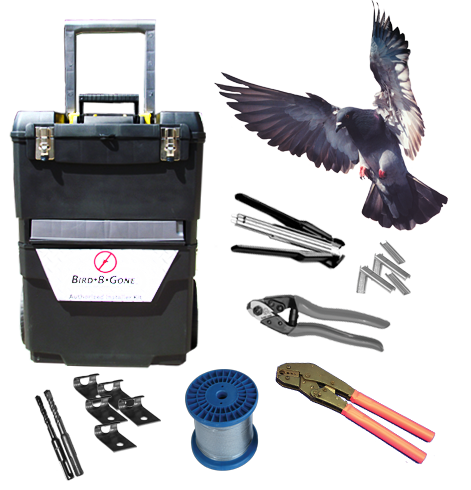 The Installer Kit includes the following items:

♦ Heavy Duty Portable / Rolling Tool Box
♦ Hog Ring Tool
♦ Assorted Drill Bits
♦ Crimp Tool
♦ Cable Cutting Tool
♦ Lag Screw Driver
♦ Copper Mesh
♦ Construction Grade Adhesive
♦ Bird Wire: Cable, Posts, Glue on Bases, Crimps
♦ Bird Netting: Straining Wire, Corner Attachments, Intermediate Attachments, Turnbuckles, Ferrules, Hog Rings and more!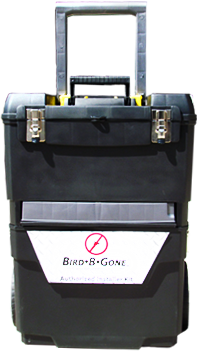 Introducing the Bird-B-Gone Installer Kit - a heavy duty portable tool box that includes all the tools and hardware needed to start a successful bird control business.
The Installer Kit includes tools and hardware used to install bird netting, bird spikes, bird wire, bird slope and other popular bird control products.
Kit features include:
♦ Value of over $650!
♦ Eliminate trips to the hardware store!
♦ Tools for installation of several bird control products!
♦ Rolling tool box is portable and job site ready!
♦ Organizes bird net and wire installation hardware!
♦ Includes hardware most commonly used for Bird Net and Bird Wire Installation!
The Bird-B-Gone Difference:
We manufacture our products in the United States ensuring they meet the highest standard of quality in the industry. All products go through an extensive quality control process before they leave our warehouse. We stand behind the quality of our products and encourage customers to compare our products with competitors' in order to see the Bird-B-Gone difference!
The Installer Kit can be used for installation of:

♦ Bird Netting
♦ Bird Jolt Flat Track
♦ Shock Track
♦ Bird Wire
♦ Bird Spikes
♦ Bird Slope
♦ And more!