Description
Features
Details
Where to Use
Installation
MSDS
Reviews

Avian Control™ is a non-toxic repellent that discourages geese and other birds from congregating on golf courses, parks, athletic fields, airports, vineyards and other areas where birds are grazing.
Using a unique patent pending formula, Avian Control irritates the birds' mucous membranes causing them to avoid the area. Avian Control can either be sprayed or fogged for desired effect.
♦ Can be distributed either by fog or spray. One SKU instead of two!
♦ Covers a large area. Fogging only uses 12-16 oz per acre!
♦ Lasts up to 3 times longer than other goose deterrents!
♦ Unique patent pending formula increases efficiency!
♦ Safe for people, pets and birds! All ingredients considered "Generally Regarded As Safe" by the FDA!
♦ Low cost, effective solution!
The Bird-B-Gone Difference:
We manufacture our products in the United States ensuring they meet the highest standard of quality in the industry. All products go through an extensive quality control process before they leave our warehouse. We stand behind the quality of our products and encourage customers to compare our products with competitors' in order to see the Bird-B-Gone difference!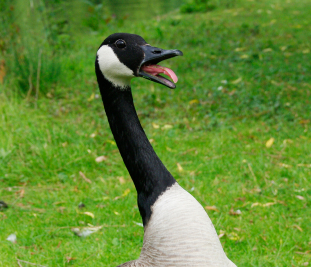 Avian Control™ is a state of the art liquid repellent used to deter birds from large open spaces. The liquid can be sprayed on or applied with a fogger.
Avian control is approved by the Environmental Protection Agency (EPA) for use on numerous crops to prevent damage from foraging birds.
Avian Control is manufactured in the USA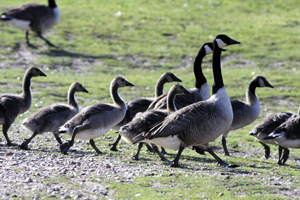 Avian Control™ is meant for outdoor use:
♦ Athletic Fields
♦ Airports / Airfields
♦ Golf courses
♦ ParksLandfills
♦ Corporate Parks
♦ Shorelines
♦ Lawns / Yards
♦ Cemeteries
Avian Control is effective for all birds including:
♦ Geese
♦ Ducks
♦ Starlings
♦ Gulls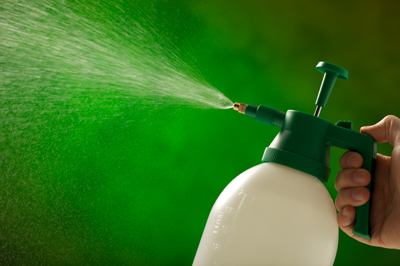 Avian Control™ should be applied by a licensed pest control operator.
If you have questions on installing this or any other Bird-B-Gone product, please call us at 1-800-392-6915 or email nobirds@birdbgone.com.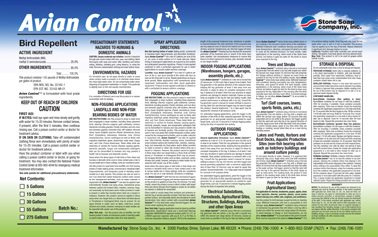 For the Material Safety Data Sheet on this product, please visit the link below.
MSDS (pdf)