Government
How Birds Affect the Industry
Cities, states, municipalities, counties and other government agencies all deal with pest bird problems. Common areas are state owned buildings or structures such as bridges. Birds have been known to deteriorate historic buildings with their acidic droppings and can create quite a mess when they inhabit abandoned buildings.
When birds nest under bridges or other structures, the build up of droppings can corrode materials and potentially lead to unsound structures. It is thought that a build up of bird droppings on beams under the Minneapolis Bridge in 2005 was one of the causes of its collapse.
Bird droppings in city owned and maintained areas can create a slip and fall hazard. In 2006, the city of New York was ordered to pay a man $6 million dollars after he slipped on bird droppings in a subway station.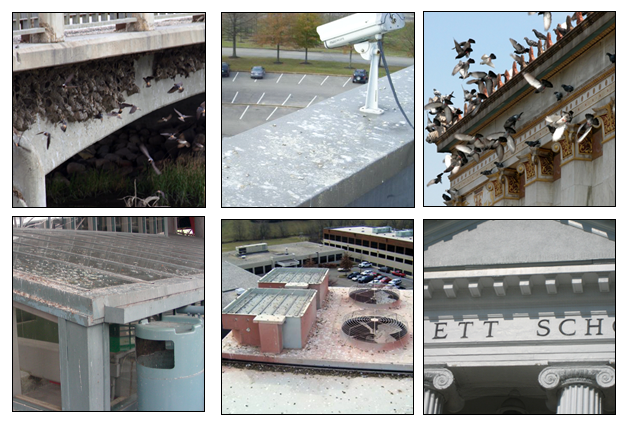 Common areas birds pose a problem:
♦

Historic Buildings


♦

State Owned Properties


♦

Public Transportation Depots


♦

Bridges, Roadways


♦

State Parks


♦

Storage Facilities


♦

Military Bases


♦

Walkways


♦

Abandoned Buildings

GSA Approved
Suggested Products
♦

Bird Netting

Used to keep birds out of enclosed or semi enclosed areas, ideal for recessed areas




♦

Electric Track Bird Abatement – Bird Jolt Flat Track and Shock Track

Low profile deterrent ideal for areas where aesthetics are a concern




♦

Bird Spikes

Physical bird deterrent used to humanely prevent birds from landing




♦

BBG AAFS

An advanced bird dispersal hazing system
♦

Bird Wire

Post and Wire system that prevents birds from landing by creating an unstable landing area
♦

Live Traps

Used to humanely capture pest birds for later release or relocation.




♦

Mist Nets

Ultra fine netting used to capture bird trapped in indoor areas for later release




♦

Bird Slope

Angled deterrent that blocks birds from landing or nesting on ledges
♦

Pond Netting

A heavy duty netting used to keep birds from landing in tailing or collection ponds




♦

Fog Force

A liquid repellent distributed by a fogging machine used to deter birds from large outdoor areas




♦

Transparent Bird Gel

Gel repellent used to prevent birds from landing
Every bird problem is different; the appropriate bird deterrents are chosen based on the bird species, area where they are posing a problem and whether or not the birds are nesting. If you are unsure about which product would work best for your specific situation, please call our bird control engineers at 1-800-392-6915 or email nobirds@birdbgone.com. We also work with a network of authorized installers, call today for a trained bird control professional in your area.
Our team has over 80 years of combined experience in the field of bird control and can help with choosing the correct product to proper installation and cleanup.