Bird Species
Pigeons, seagulls, crows, vultures or larger birds. Not recommended in areas where birds have been nesting.
Where to Use
Roof peaks, ledges, rooflines, beams, rooflines, parapet walls, eaves, I-beams, windowsills, light posts, signs, and more
Bird Pressure
Light to Medium
Guarantee
10-year from manufacturer's defects and defects caused by U.V. breakdown
Material
Commercial grade stainless steel pins manufactured into a UV protected polycarbonate flexible base
Packaging
2-foot pigeon spike strip sections; patented "bend and crush" design ensures spikes will not fall out of base
Installation
The base of the bird spike strip is 2" wide and can be glued, screwed, or tied down to most surfaces
Patents
US 6250023, US 6775950
Stainless steel bird spikes are designed for commercial installers and residential home improvement projects alike. Bird B Gone Steel Bird Deterrent Spikes are the #1 specified pigeon spike by architects, contractors and government agencies. You can rest assure these spike strips are the best in the industry when it comes to quality, effectiveness and durability.
Sizing Suggestions
| Ledge Size | Suggested Spike Width |
| --- | --- |
| 1" - 2" width | 1" width |
| 2" - 4" width | 3" width |
| 4" - 6" width | 5" width |
| 7" - 9" width | 8" width |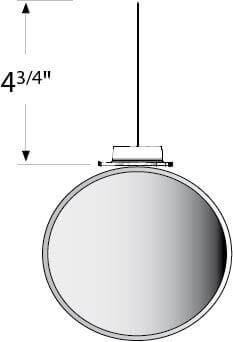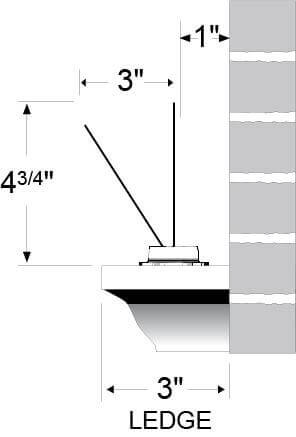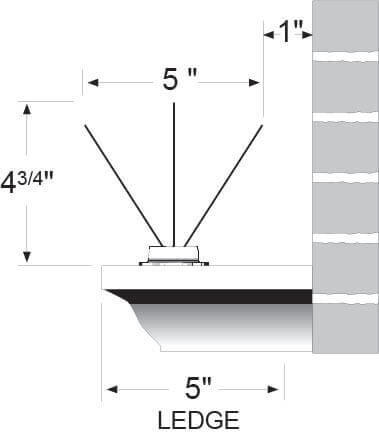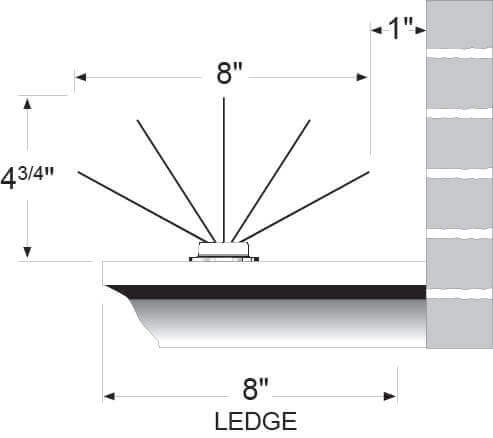 * Wider ledges may require multiple rows of bird spike strips. Install bird spike strips with 1-in overlap.
Pigeon spikes are a humane and cost-effective bird control solution that will not harm birds. Our pigeon spikes come in 2 ft. sections that are ready to use and easy to install with no assembly or maintenance required.
Stainless Steel Bird Spike Design Features:
Bird B Gone's patented stainless steel spikes have a bend and crush design, firmly anchoring each metal spike into the UV stabilized plastic base. This ensures each stainless steel strip is secured for years of durability.
Each 2-ft spike section is equipped with multiple screw holes
Available in 1", 3", 5" & 8" widths for maximum coverage
Clear thermoplastic base can safely bend 360 degrees
Made from stainless steel and durable UV protected thermoplastic materials, each strip is constructed to withstand the harshest of weather conditions and temperatures. Providing an industry leading 10-year guarantee.
Benefits of Stainless Steel Spike:
Stainless steel bird deterrent spikes are one of the most cost effective, humane, and durable deterrent available. Stainless steel spikes deter seagulls, pigeons and birds of similar size by creating an uneven landing surface.
The dulled ends of steel spikes humanely prevent the bird from comfortably landing, repelling them away from the intended areas.
Metal spikes require virtually no maintenance after installation.
Humane, will not harm birds
Manufactured by Bird B Gone
Bird B Gone Pigeon Spikes are an effective, humane, maintenance-free permanent bird control solution that deters pest birds from landing and roosting on your home, building or other structure. Ideal for use on roof peaks, ledges, roof-lines, parapet walls, eaves, I-beams, windowsills, light posts, signs, and more.
Each Bird B Gone stainless steel pigeon spike strip comes pre-assembled in two-foot sections and can be glued, screwed or tied down to most surfaces. Read and follow all instructions prior to installation.
Surface Preparation
The first step prior to installing bird spikes is to clean and dry the area where bird spikes will be installed. Due to the infectious diseases associated with bird feces and debris, be sure to use extreme care when removing nests and bird droppings. Visit Bird Control Safety for additional information on how to safely clean up bird droppings and disinfect the area prior to installation.
Adhesion
Surface should be clean and dry before installation. Select width of bird spike based on surface to be covered. For permanent placement, glue, screw, or tie down bird spike strips in conjunction with an outdoor construction grade adhesive. Stainless steel bird spike rods should overhang the outer edge by a minimum of 1/2". Stainless steel bird spike rods should be no more than 1" from the back wall to prevent smaller birds from landing between the bird spikes and the back wall. Wider ledges may require multiple rows of pigeon spike strips. Install bird spike strips with 1" overlap.
Secure pigeon spikes with proper screws and adhesive.
Wood surface area: bird spikes can be secured with wood screws
Concrete, brick, or steel surface areas - use outdoor construction adhesive
One caulking tube of adhesive should cover approximately 20 ft of pigeon spike installation
Whenever possible, we suggest screwing or bolting down bird spikes in conjunction with the use of an outdoor construction adhesive
Bird B Gone's Stainless Steel Bird Spikes are specified by more Government Agencies, Architects and Engineers than any other bird control products in the industry. If you need additional information, please call us at 800-392-6915.
Architectural Building Information Modeling (BIM) objects and system files are free to download in revit or dwg formats for use with all major BIM and CAD software including AutoCAD, Sketch-Up, ArchiCAD and others.
By downloading and using any detail content you agree our terms and conditions.
3-part Specifications
BIM Objects
DWG as PDF
Real Reviews From Real Customers
Frequently Asked Questions