Description
Details
Features
Where to Use
Installation
Videos
Reviews
The Repeller 360°™ is a spinning visual bird deterrent used to prevent large birds from landing.
The Repeller 360° uses wind power to spin continuously. Covering areas up to 6 ft. in diameter, the Repeller 360° features reflective "predator eyes" at the end of each arm to confuse and scare birds from coming near the protected area.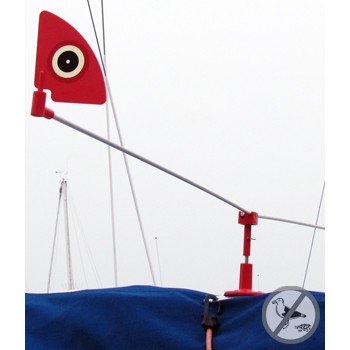 The Repeller 360° is made of stainless steel arms attached to a UV protected polycarbonate base. At the end of each "arm" attached to the top of the Repeller is a reflective "predator eye". The spinning motion and reflective predator eye will work to scare birds and prevent them from landing in treated areas.
The Repeller 360° locks into place with a patent pending clip to prevent loss in high winds. It can be attached with a variety of bases available through Bird-B-Gone.
The Repeller 360° is manufactured by Bird-B-Gone in the USA!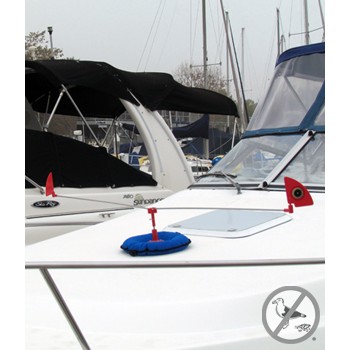 · Wind powered - no electricity needed!
· Spins continuously to prevent birds from landing!
· Reflective "Predator Eyes" on "Sails" help deter birds from the area.
· Variety of mounting bases available!
· Helps eliminate unsightly messes and stains caused by bird feces.
· High wind tested - will not break or fall off in high wind areas.
· Easy to install; Easy to store.
· Made in the USA by Bird-B-Gone, Inc.!
The Bird-B-Gone Difference:
We manufacture our products in the United States ensuring they meet the highest standard of quality in the industry. All products go through an extensive quality control process before they leave our warehouse. We stand behind the quality of our products and encourage customers to compare our products with competitors' in order to see the Bird-B-Gone difference!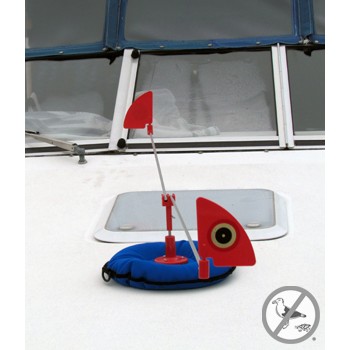 The Repeller 360° is ideal for use in many settings:
♦ Boats / Boat Covers and Canvases
♦ Docks
♦ Biminis
♦ Light posts
♦ Air conditioner units
♦ Skylights
♦ Dock pilings
♦ Signs
♦ Rooftops
Effective For:
The Repeller 360° is effective for large pest birds including:
♦ Pigeons
♦ Crows
♦ Gulls
♦ Cormorants
♦ Raptors
The Repeller 360° snaps into place and is easy to store away for later use. Place the Repeller 360° over the center pin and press down into place. Insert the locking pin at the side to secure the unit. Unfold the arms so the sails are positioned opposite of each other. Adhere the stickers to each sail. There are various mounting options including removable boat bases.
If you have questions on installing this or any other Bird-B-Gone product, please call us at 1-800-392-6915 or email nobirds@birdbgone.com.