Description
Features
Details
Where to Use
Installation
Video
Reviews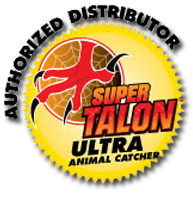 The Super Talon Net Launcher from Bird-B-Gone, Inc. is a heavy duty hand held net launcher used to capture birds for later release.
The Net launcher is powered with compressed air cartridges and shoots out up to 60 feet. The Super Talon net can be re-used over and over and comes complete with a carrying case and all the necessary components.
♦ Will not harm birds!
♦ 2" mesh effective for all birds!
♦ >Only 12.5 inches long and 2.3 lbs!
♦ Net launches up to 60 feet!
♦ Humane, effective control method!
♦ Used worldwide by animal control agencies and research scientists!
♦ Ideal for: warehouses, food production sites, storage facilities, big box stores and other areas!
♦ Kit comes complete with everything needed including air cartridges and multiple net launchers
♦ Additional mesh sizes available for wildlife control
The Bird-B-Gone Difference:
We manufacture our products in the United States ensuring they meet the highest standard of quality in the industry. All products go through an extensive quality control process before they leave our warehouse. We stand behind the quality of our products and encourage customers to compare our products with competitors' in order to see the Bird-B-Gone difference!
The Super Talon Net Launcher is a humane capture net used to trap and release birds. It uses compressed air to launch a weighted net up to 60 feet out. The net launched has a 2" mesh that can be used to trap any size bird. The Super Talon comes complete with accessories and a locking carrying case:
Kit Includes:
♦

Firing Handle

♦

2 Net Launchers

♦

10 Air Cartridges

♦

Carrying Strap

♦

2 Replacement "O"Rings

♦

4 Spare End Cover Caps

♦

A Lockable Aluminum Foam Lined Carrying Case
The Super Talon Net Launcher is ideal for use in many settings:
♦ Warehouses
♦ Big Box Stores
♦ Food Processing Sites
♦ Storage Facilities
♦ Outdoors
♦ And more!
The Super Talon is effective for all birds including:
♦ Pigeons
♦ Starlings
♦ Sparrows
♦ And more!
The Super Talon Net Launcher is made for professional use only for the humane capture of birds. Please use caution when using this product and call with any questions regarding its use.
To load the cartridge, remove the back cap and insert the cartridge into the handle backwards with the small end facing out. Screw the cap onto the back stopping just below the furthest red O-ring, This is the "safe firing position". When ready to fire, turn the back cap completely covering the red O-ring and turn the trigger to the on position. Aim the net at least ten feet away from the target and press the firing button.
If you have questions on installing this or any other Bird-B-Gone product, please call us at 1-800-392-6915 or email nobirds@birdbgone.com.