Please add the schema tags below
No-Knot Bird Netting VS Heavy Duty Bird Netting
Know Your Bird Nets: Knotted versus No-Knot
Is No-Knot (HD Polypropylene) Bird Netting better than Heavy Duty (HD Polyethylene) Bird Netting?
This brings us straight to the heart of today's question: is no-knot netting better than traditional heavy-duty knotted netting? To answer this, we're going to look at the following three characteristics of quality netting to see how each product stacks up:
Efficacy
Installation
Durability
Bird control experts agree: in many circumstances, the best answer to a bird control problem is exclusion. Prevention is always easier than cleanup, especially when it comes to birds and their messes. Once birds move in, it can be exceedingly difficult to convince them to move and, oftentimes, the damage they do in the process is expensive and possibly permanent. Anti-bird netting from Bird B Gone is an exclusion product that effectively excludes birds from unwanted areas. Once installed, bird netting requires virtually no maintenance and has minimal visual impact, making it an ideal solution for the trickiest bird problems.
1) Efficacy: Which Bird Net is More Effective?
Let's start with the most important question: do these two types of bird nets work? If they don't keep the birds out, it won't really matter how easy they are to install or maintain. When it comes to excluding birds, both No-Knot (HD Polypropylene) Bird Netting and Heavy Duty (HD Polyethylene) Bird Net do the job equally well. These nets are successfully used to block birds from accessing a variety of areas, including the following:
Courtyards or balconies
Exposed recreation areas
Open loading bays
Warehouses
Unprotected eaves
Large, 3-D, mounted signage
Car ports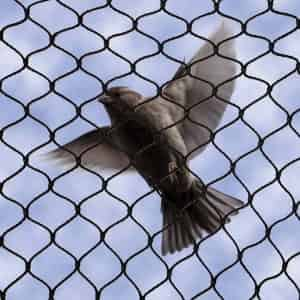 Both types of nets feature a ¾" mesh size that excludes birds of all species. With professional, permanent installation, No-Knot and Heavy Duty netting both offer 40lbs of burst strength. Even the biggest birds cannot break through these super strong nets.
Takeaway: Both No-Knot and Heavy Duty netting are equally exceptional at excluding birds from a wide variety of locations both large and small.
2) Installation: Which Bird Net is Easier to Install?
Knotted HD Polyethylene netting from Bird B Gone has been around for a long time and is a favorite among installer because it's lightweight and easy to work with. That said, experienced installers can attest to the fact that knotted nets are rough on hands and knuckles. If you've ever wished for a product that was easier on your hands, No Knot HD Polypropylene netting is the answer. It's made of interwoven polypropylene monofilaments that have a fabric like feel, which has none of the abrasive touch of knotted nets.
When you're installing thousands of square feet of netting, the softer feel makes a huge difference. It's important to know that this netting is nothing like inexpensive garden netting; in every significant way, No Knot HD Polypropylene is comparable to Heavy Duty Polyethylene netting.
In addition to the feel of the materials, installers will experience a few other minor differences when using No Knot netting, including the following:
The material will fray slightly, especially if cut with dull scissors or the wrong tools.
No-Knot netting has a bit more give than standard netting, so it will scrunch and retract more when being shaped square prior to installation.
Because No Knot netting lacks some of the rigidity of Heavy Duty netting, it can be more challenging to cut it into smaller sections.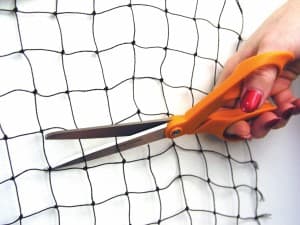 Aside from these differences, installation of both nets is comparable.
Takeaway: From an installation perspective, the choice between these two nets really comes down to installer's preference. But, if you haven't tested No Knot netting, we highly recommend you give it a try.
3) Durability: Which Bird Netting Will Last Longer?
One of the biggest advantages of all Bird B Gone netting products is durability. These exclusion products install easily and then offer non-stop 24/7 protection for years. And maintaining this protection is effortless; keeping the area free from leaves and other debris is all that's required.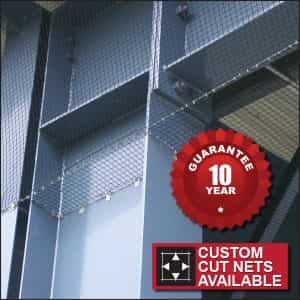 Users of both No Knot netting and Heavy Duty netting get the benefits of the following:
UV protection
10-year warranty
40lb break strength; ISO 1806 and 9001 protocol tested
Stability in sub-freezing temperatures
Rot resistance
Flame resistance
Water resistance
Resistance to acids and alkalis
Non-conductivity
The only different between these two products in terms of durability is that No Knot netting is less resistant to abrasion; if installed in a location where the netting will rub up against any surface, this netting may fray.
Takeaway: No-Knot Netting and Standard Knotted Netting have the same break strength, the same 10-year warranty, and the same resistance to many factors that damage weaker nets.
The Net Result
Heavy Duty netting has been around for a long time. Experienced installers are comfortable using this product and appreciate it for its durability and ease of use. No Knot netting is new to the market and provides all the same high-quality exclusion protections. Both nets look virtually the same from a distance and the installation processes are exactly the same as well. But many installers appreciate the softer feel of No Knot netting and find that it's easier and more pleasant to work with, especially on large overhead jobs. This gentler touch is the most significant difference between these two products. By all other measures, No-Knot (HD Polypropylene) Bird Netting and Heavy Duty (HD Polyethylene) are indistinguishable from one another.
Anti-bird netting from Bird B Gone is a versatile exclusion solution for the following reasons:
It works equally well in large and small spaces.
It's effective in any setting, from big agriculture to home gardens and from small businesses to large warehouses.
It lasts a long time and, once installed, requires little maintenance
Netting is cost effective and products are available at a range of price points
It's safe, harmless, 100% effective, and easy on the environment
Bird B Gone carries netting products for every application. Our expert team is here to help you choose the right bird netting for your project. We assist with project planning, material and hardware selection, installation tutorials, and more. Working with a bird control expert on any commercial netting project is highly recommended, as careful placement is essential to maximizing protection and minimizing appearance.
Ask a Bird Net Expert at Bird B Gone
Here at Bird B Gone, we have all the bird control products and techniques you need to protect your residential or commercial property from the damages caused by pest birds. Call today for expert bird control advice and to learn more about No-Knot (HD Polypropylene) Bird Netting and Heavy Duty (HD Polyethylene).