Please add the schema tags below
A Bird Netting Buyers Guide: [Quick and Easy] Tips to Choose the Right Net
If you landed on this bird netting buyers guide, you're probably thinking, "what type of bird netting do I need." Don't worry, we have you covered with our easy to follow bird net buyers guide. We cover the importance of choosing the right mesh size and the net material type for the bird problem you are facing.
In this blog you will learn:
Why Bird Netting Works Best
Why Mesh Size is Important
Net Material and the different type of netting
When birds, in small or large numbers, claim your property as their preferred nesting, roosting, or feeding area, trouble always follows. Bird trouble comes in a variety of forms, including the following:
Unsightly, slippery, toxic and caustic droppings
Messy, scattered nesting materials
Blocked drains and vents
Health code violations
Ruined gardens and destroyed crops
Here at Bird B Gone, we're experts in bird control. We offer our customers a comprehensive selection of bird control products as well as access to highly-trained bird control professionals.
1) Why Bird Netting Works Best
One of those solutions is bird control netting. Bird netting is an exclusion device meant to prevent birds from gaining access to areas you wish to protect such as the following:
Berry bushes
Fruit trees
Vegetable gardens
Courtyards and balconies
Car ports
Exposed recreation areas
Windowsills
Vents
Open loading bays
Warehouses
Unprotected eaves
Fisheries
Large, 3-D, mounted signs
Anti-bird netting is a versatile solution for a number of reasons:
Bird netting is safe for birds, keeping them out and away from unsafe areas
Netting works in large spaces and small spaces.
It's great for any setting from big agriculture to home gardens, and from small businesses to large warehouses.
Netting lasts a long time and once installed, netting requires virtually no maintenance
Bird netting is cost effective and available at a number of different price points
It's safe, harmless, and easy on the environment
Bird B Gone carries a wide range of netting products to suit any application. When shopping for netting, there are two basic variables to consider: the mesh size and the net material.
Let's take a closer look at each of these and how to determine which is right for you.
2) Is Mesh Size Important?
Yes, choosing the correct mesh size will make all the difference. Bird netting is an open-meshed material. The larger the mesh size, the larger the holes in the net. Larger holes are less susceptible to wind, less visible, weigh less, and cost less than smaller mesh nets.
With that in mind, the general rule is that smaller mesh sizes will always deter a wider range of birds. So, if you are unsure of the birds in your area, make sure to use the smallest size that is offered.
Bird B Gone carries nets in three main mesh sizes:
3/4" MESH
This mesh is our most popular size
Effectively stops all bird species, small and large
Great for stopping sparrow sized birds and anything larger.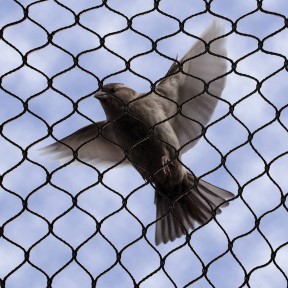 1 1/8" MESH
This medium size mesh excludes starlings, pigeons, and larger birds.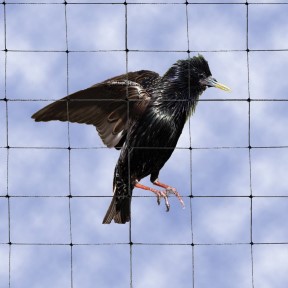 2" MESH
The 2" mesh is our largest mesh and it successfully excludes pigeon-sized birds on up.
Good for larger birds such as seagulls, hawks, and other bird large species.
Will allow smaller birds such as sparrows and starlings to pass through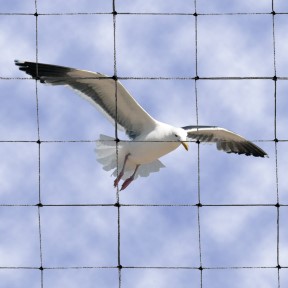 3) Bird Net Material
The material used to construct the net is the other important consideration when choosing the right product. The material determines where the netting can be used and the complexity of the installation. Some nets are made for seasonal use, while others are made for commercial or permanent installations.
Net used for Seasonal Bird Problems
Nets used for seasonal bird problems need to be affordable, lightweight, easy to deploy and store for reuse.
GARDEN NETTING
Our Garden Netting is a very light weight plastic mesh used to protect gardens, fruit trees, berry bushes, and other locations from seasonal pest bird problems.
Material: Black UV-protected polypropylene, no warranty
Mesh Size: Garden netting is available in 3/4" mesh and smaller 1/2" and 1/4" sizes. The 1/4" mesh size will also protect from cicadas and other insects.
Benefits: This easy-to-use netting comes in bulk rolls that can be cut and trimmed to size with ordinary scissors. Installation options are versatile and require no special tools. Simply drape the net over your garden plants or suspend the netting a few inches above desired areas. This can help keep birds from eating berries or other produce. When protection is no longer necessary, roll up the net to store easily for reuse.
Net used for Commercial or Permanent Installations
Nets used for commercial and/or permanent installations need to be durable, have high break strength ratings and be unobtrusive to the naked eye. These nets should be able to support the tension needed to suspend above entrance ways, warehouses, aircraft hangers, all while being unnoticeable to those below.
HEAVY DUTY NETTING
Bird Net 2000 is an industry-leading product that provides a permanent physical barrier against pest birds, including pigeons, from nesting or roosting. It's effective in a variety of settings, including roofs, warehouses, loading docks, aircraft hangers, and more.
Material: Bird Net 2000 is made of six strands of twisted and knotted, polyethylene UV-treated twine. The net is pressure stretched and tightened, resulting in 40lbs of burst/break strength. It's flame resistant and rot proof and the black color carries a 10-year warranty, the best in the business.
Mesh size: 3/4", 1 1/8", and 2" sizes are available
Benefits: This is the #1 net specified by government agencies and architects across the country. It's virtually invisible once installed and provides unparalleled protection. Professional installation is recommended. Stock sizes and custom cuts are available.
NO-KNOT BIRD NETTING
No-knot Bird Netting is similar to Bird Net 2000. It provides the same protection from pest birds but the innovative "no knot" construction makes it easier on the hands during installation.
Material: Black multi-stranded polypropylene fiber with 40lbs of break strength.
Mesh size: 3/4" only
Benefits: This product is new to the bird control industry, but is quickly becoming a preferred option at the 3/4" mesh size. It carries the same 10-year warranty as Bird Net 2000. Each net is inspected, tagged, and signed before leaving the Bird B Gone website so you know you're getting an outstanding product. Professional installation is recommended.
FLAME BIRD NETTING
Flame Bird Netting is a heavy duty permanent bird net that humanely excludes pest birds from unwanted areas. It is comparable in many ways to Bird Net 2000, but has the added benefit of a revolutionary red filament that extinguishes itself if exposed to flame. It's not just flame resistant; this net will not burn.
Material: Six strands of polyethylene UV-treated twine plus self-extinguishing red filament for fire protection. Strands are knotted, pressure stretched, and tightened for longevity and to withstand 33lbs of pressure. This net comes with a 10-year warranty.
Mesh size: 3/4" only
Benefits: This revolutionary bird net will stop itself from burning, making it an ideal product for indoor applications where fire is a hazard. Professional installation is recommended.
Trust Bird B Gone
Bird B Gone's expert team is here to assist you with choosing the right bird netting for your project. We'll help with project planning, material and hardware selection, installation tutorials, and more. We highly recommend working with a bird control expert on any commercial netting project, as careful placement is critical to maximizing productivity of the net and minimizing its appearance.
At Bird B Gone, we have the bird control solutions you need to protect your residential or commercial property from pest birds. Contact us today to see how we can help you put an end to your bird troubles.