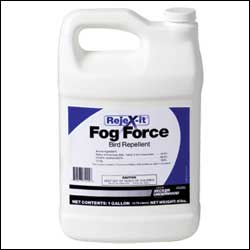 Fog Force is a non-toxic liquid fogging agent used to deter birds from open spaces.
The active ingredient in Fog Force is methyl anthranilate, a grape extract proven to be effective in repelling pest birds. The extract irritates birds' trigeminal nerve and mucous membranes through entry in the eyes, nose or mouth. Birds do not like the sensation caused by the extract and will take flight from the area being treated.
♦ Safe and Humane – Will not harm Birds or People!
♦ Made from a non toxic Grape Extract!
♦ Ideal for Flocking birds in trees, turf areas, parks, golf courses, and more!
♦ Effective for all bird species!
The Bird-B-Gone Difference:
We manufacture our products in the United States ensuring they meet the highest standard of quality in the industry. All products go through an extensive quality control process before they leave our warehouse. We stand behind the quality of our products and encourage customers to compare our products with competitors' in order to see the Bird-B-Gone difference!
Fog Force is best used in the early morning or late evening when flocks are typically eating and at their highest population count. Fog Force is applied using a thermal ULV fogger, and is for professional use only.


For the Material Safety Data Sheet on this product, please visit the link below.


MSDS (pdf)


If you have questions on installing this or any other Bird-B-Gone product, please call us at 1-800-392-6915 or email nobirds@birdbgone.com.