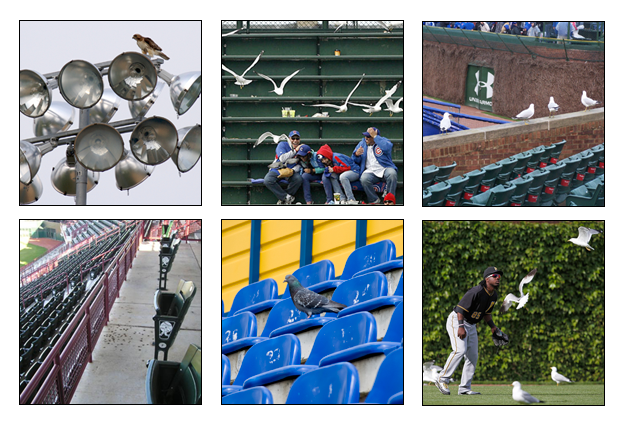 Stadiums and other semi enclosed outdoor arenas offer many attractive features for birds. First off, rafters and beams provide ample protected space for birds to roost or nest in. When they get hungry, they can swoop up food scraps left by patrons. Birds in rafters can create quite a mess in the bleachers and walkways below, usually prompting regular clean-up of the area.
Birds can also be found on athletic fields, whether it's your local soccer field or Wrigley stadium, birds have been known to destroy sports fields by eating seeds or interrupting live games.
Common areas birds pose a problem:
♦

Rafters


♦

Stadium Seating


♦

Walkways


♦

Athletic Fields


♦

Lights


♦

Signs


♦

Food Concession Areas
Every bird problem is different; the appropriate bird deterrents are chosen based on the bird species, area where they are posing a problem and whether or not the birds are nesting. If you are unsure about which product would work best for your specific situation, please call our bird control engineers at 1-800-392-6915 or email nobirds@birdbgone.com. We also work with a network of authorized installers, call today for a trained bird control professional in your area.
Our team has over 80 years of combined experience in the field of bird control and can help with choosing the correct product to proper installation and cleanup.