Gutter Spikes come in 2 foot long sections, are 5" wide, and are sold 50 & 100 feet per box. Each section has clamps along the base for easy attachment to the lip of a gutter. The clamps are adjustable, and will fit any gutter size. Gutter spikes are made of stainless steel pins, manufactured into a UV protected polycarbonate base, there are three "c" clamps along the base of each two-foot section.
Gutter Spikes are made by Bird-B-Gone in the USA and carry an industry leading 10-year guarantee.
Features:

Lowest Price...Longest guarantee - 10 years!
Prevents Birds from Landing on Gutter Ledges!
Prevents Birds from Nesting in Gutters!
Fits onto ANY / ALL Gutters!
Manufactured by Bird-B-Gone in the USA!
Will Not Cut or Injure the Installer!
No Need for Separate Clips or Hardware!
Stainless Steel Spikes - Virtually Invisible!
U.V. Protected / Sun & Weather Proof - Not Affected by Extreme Temperatures (+310°F to -200°F)!
Applications:
Gutter Spikes are effective for:
Pigeons
Crows
Gulls
Vultures
Raptors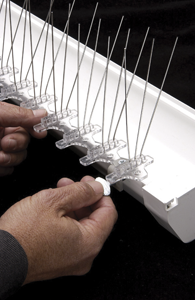 There are three aluminum "c" clamps attached to the base of each two foot section of Gutter Spike. Each clamp is easily adjusted with a thumb screw. You simply loosen the screw, fit the clamp over the lip of the gutter, and then tighten the screw to hold each strip in place. It is important to clean out any nesting materials before installing the gutter spikes.
If you have questions on installing this or any other Bird-B-Gone product, please call us at 1-800-392-6915