Hawaii Bird Control
Getting Rid of Pest Birds in Hawaii
The Aloha Statehas many beautiful birds, and while some can be a costly nuisance to commercial property owners, Hawaii's bird problem must addressed humanely. A federal reported noted that the state's native avian population is in peril, with nearly all of its birds in danger of becoming extinct.
Surrounded by trees and very little human activity, Honolulu International Airport has a serious bird strike problem. At the end the runway, about 500 egrets return each day at sunset to create a dangerous condition for aircraft taking off and landing.
Then there's the Red-Vented Bulbul, which has become a major agricultural pest, feeding on fruits, vegetables and flower buds. The 8-inch black bird has resulted in $300,000 in damages to orchids annually on Oahu. It spreads the seeds of invasive plants, including miconia, ivy gourd and false kava.
Pigeons flocking around hotel patios, beachside parks and outdoor buffets (often fed by well-meaning tourists) can be a costly nuisance, defacing and damaging commercial property.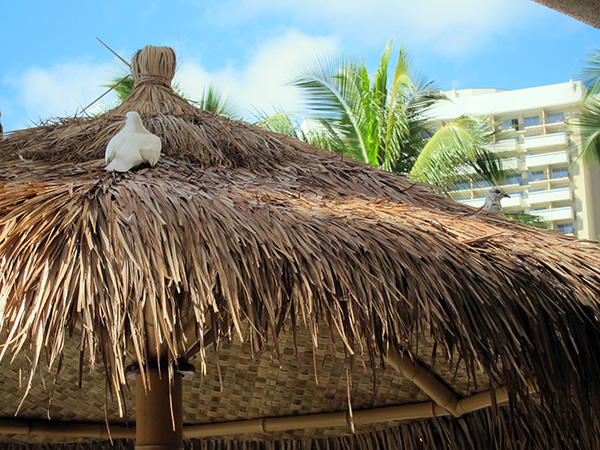 Here's what the bird control experts at Bird B Gone recommend to solve Hawaii's bird problems:
For Egrets & Shorebirds Around Airports
The handheld Agrilaser® uses advanced, patented optical laser-beam technology to harmlessly repel pest birds over great distances—up to 2,000 meters. The Agrilaser® is animal friendly and ideal for repelling a variety of birds.
For the Red-Vented Bulbul
Bird B Gone's inexpensive visual bird deterrents include: Flash Tape, an iridescent foil tape that crackles in the breeze and reflects sunlight to scare birds away; the Scare Eye Diverter, a tear-drop-shaped iridescent foil deterrent that features a large "predator" eye; and the Bird Scare Balloon, a large inflatable ball with large, mock predator eye.
For Pigeons
Stainless Steel Bird Spike won't allow birds to land. Available in 1-, 3-, 5- and 8-inch splay widths, the spiked strips provide increasingly wider areas of protection. Made in the USA, the spikes come with a 10-year guarantee.
Bird-B-Gone is the world's largest manufacturer and distributor of bird control products, providing effective and humane solutions to a bird-free environment. The company provides advice, training and installation services in every state for those who need help with these and other bird control measures.
Need an installer? Call us today for a bird control product installer in your area
(800) 392-6915