Missouri Bird Control
How to Get Rid of Pest Birds in Missouri
The Show Me State has several birds that can cause a number of problems for commercial interests.
Blackbirds, grackles, cowbirds and starlings feed in large flocks causing costly damage to Missouri'sagricultural crops—like corn, sunflower, and sorghum. These birds often roost in flocks of more than one million. When these birds gather in large roosts in trees around buildings and industrial structures, they create noise, filth and odor. Worse yet, bird droppings can carry any of 60 diseases—including histoplasmosis, encephalitis, salmonella, meningitis, and toxoplasmosis, even the West Nile virus.
Pigeons cause big problems in St. Louis. The messy birds recently forced the Kings of Leon band to abandon their concert after just three songs. Pigeons in the rafters of the Verizon Amphitheatre bombarded the musicians the minute they took the stage. Jared Followill was hit a number of times during the first two songs. He noted that bird droppings were already on his pedal and carpet when he walked out on stage. His bass technician was hit in the face with bird droppings. Venue managers said they've had major pigeon infestation problems with summer shows over the years.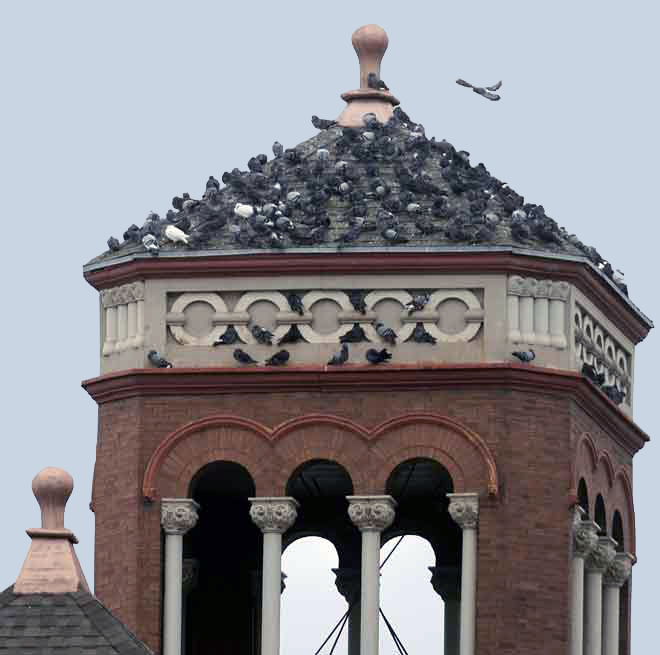 Here's what the bird control experts at Bird B Gone recommend to solveMissouri's bird problems:
For Blackbirds, Grackles, Cowbirds & Starlings
The Solar Bird Chase Super Sonic device broadcasts distress and predator calls that intimidate 22 different species of birds.Also effective is the Bird-Hazing System, which releases a light
haze of Methyl Anthranilate, a non-toxic, EPA approved food-grade ingredient that solution irritates a bird's mucous membranes.
For Pigeons
Stainless Steel Bird Spikes won't allow birds to land. Available in 1-, 3-, 5- and 8-inch splay widths, the spiked strips provide increasingly wider areas of protection.
Bird-B-Gone offers the largest network of authorized bird control installers in the Nation. We have installers in every state that have been trained on all aspects of bird control, from bird behavior to which products to use for your particular bird problem. Bird B Gone Authorized Product Installers have successfully completed our rigorous training at Bird B Gone University and are certified to install our professional grade bird deterrents.
Need an installer? Call us today for a bird control product installer in your area
(800) 392-6915