Utah Bird Control
How to Stop Pest Birds in Utah
The Beehive State has been experiencing several troublesome pest bird problems.
Utah's acting state veterinarian warned backyard bird owners to watch for the deadly bird virus threatening many other states. Utah's poultry is particularly vulnerable because many areas serve as a rest stop along the migratory Pacific flyway for millions of birds, and incidental contact can spread the disease. The virus is not only a danger to the flocks of a individual owners, but the disease can threaten the entire turkey, chicken and egg industry in Utah, which is valued at $150 million.
A team of shotgun toting officers works 12 hours a day to keep small birds from colliding with aircraft at Salt Lake City International Airport. Situated on wetlands and at the edge of the Great Salt Lake, the airport averages about 80 bird strikes a year. The airport tries to keep birds away by limiting trees where birds often perch, keeping grass mowed low and eliminating standing water. The problem birds include pelicans, seagulls, hawks, geese, starlings and pigeons. The airport only kills birds as a last resort, when other methods have failed.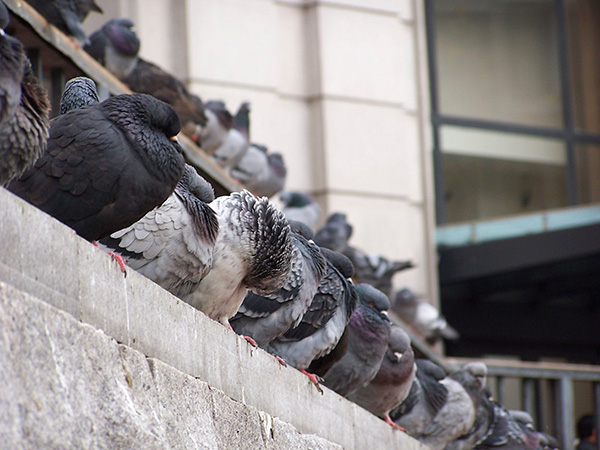 Here's what the bird control experts at Bird B Gone recommend to solve Utah'sbird problems:
For Wild Birds Threatening Poultry Farms
The Bird-Hazing System releases a light
haze of methyl anthranilate, a non-toxic, EPA approved food-grade ingredient that irritates a bird's mucous membranes. The repellent effect is only temporary and will not injure birds.
For Birds Around Airports
The hand-held Agrilaser® uses advanced, patented optical laser-beam technology to harmlessly repel birds over great distances—up to 2,000 meters. Much like an approaching car, birds perceive the green laser beam as a rapidly approaching physical threat, so they flee the area.
Bird-B-Gone offers the largest network of authorized bird control installers in the Nation. We have installers in every state that have been trained on all aspects of bird control, from bird behavior to which products to use for your particular bird problem. Bird B Gone Authorized Product Installers have successfully completed our rigorous training at Bird B Gone University and are certified to install our professional grade bird deterrents.
Need an installer? Call us today for a bird control product installer in your area
(800) 392-6915