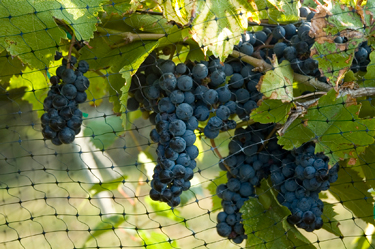 Bird-B-Gone Garden Netting is a lightweight plastic mesh that handles easily and is specifically designed for temporary use. The netting comes in handy 14 x 100-foot and 14 x 200-foot bulk rolls, which you can cut and trim with ordinary scissors to the exact size and shape needed. Garden Netting is also available in three different mesh sizes to deter various bird species. 1/4" garden mesh is recommended for tiny birds; 1/2" mesh for average sized birds; 3/4" mesh for larger birds. Once you've selected the netting, the mesh size, and the right cut and shape, installing netting is easy.
Using Garden Netting on Plants, Vines and Trees
There are many ways to effectively use Plant Netting. To protect small bushes, vines and other vegetables, wrap the blueberry netting around each plant. For groups of bushes or vines, suspend the plant netting over entire areas of plants. The mesh can be suspended from a series of poles placed around the perimeter of a garden or crop. To keep pest birds out of young fruit trees, drape the fruit tree netting over each tree with the help of a friend or assistant. Bird B Gone recommends that you allow at least a four-inch space between the netting and the bush, vine, plant or tree. This will prevent pest birds from sitting on the netting and eating the fruit or vegetable through the mesh using their beaks.
Using Garden Netting on Eaves and Other Structural Areas
Bird Mesh is also ideal for keeping pest birds away from specific areas of a home or structure. To keep woodpeckers away from eaves, for example, drape the netting from the eave's overhang to the side of the structure. Avoid cutting large pieces out of the netting when encountering protrusions like pipes, lights or rain gutters. Cut slits or X cuts just large enough to accommodate the obstruction.
Using and Re-Using Garden Mesh

Fabricated from a durable, UV-protected polypropylene material, Bird B Gone Garden Netting is specially designed to endure hot sun and winter's rain. It's also environmentally friendly and made from FDA sanctioned resin. Once installed, it's almost invisible, blending in with your bushes, vines, plants and small trees. Tree Netting can be used as a seasonal pest bird deterrent or to provide year 'round bird deterrence. This netting is covered by Bird B Gone's 1-year guarantee.
Using Garden Netting with Poly-Clips
Regardless of how and where you use it, Garden Netting should be tightly secured to ensure it stays taut. Bird B Gone Garden Netting Poly-Clips are specifically designed to work with Garden Mesh and Plant Netting. Zip ties, twine or similar materials can also be used.