Please add the schema tags below
How to Get Rid of Nesting Birds on Your Home
It's that time again, time when pest birds seek out places to nest. Your home has all sorts of lofty nooks and crannies that offer refuge from weather and predators, and within easy access to food and water.
This blog covers how to get rid of nesting birds on your home:
Best Overall Solution for Nesting Birds
Best for Birds Nesting Under Solar Panels
Best Way to Stop Nesting Swallows
Best Way to Stop Small Birds Nesting in cracks, nooks, & holes
Alternative Bird Control Solution to Help Prevent Birds from Nesting
Common places birds like to nest on your home:
How to Stop Birds from Nesting on Your Home
The most effective way to prevent birds from nesting around your home is to be proactive. And that means installing effective and humane bird deterrents before birds arrive.
The first step to stopping birds from actively nesting on your property is to thoroughly clean the nesting area of bird droppings and nesting debris. Nesting birds are attracted to their own scent and pheromones, which can be found in their droppings and nests. Use a hospital grade disinfectant and cleaning agent to sanitize the area before installing any bird control products.
Here's what the bird control pros at Bird-B-Gone recommend:
1) Best Overall Solution - Screen Birds out with Bird Netting
Prevent birds from nesting on your house with 3/4" Heavy Duty Bird Netting, effectively blocking birds from entering unwanted areas such as attics, under patios covers and eaves. The 3/4-inch mesh netting creates a physical barrier to prevent birds from landing or nesting. Heavy duty referring to the 40+ pound break strength shouldn't be mistaken for the low profile look of this net. From a distance this net is virtually undetectable, as well as rot resistant, flame resistant and UV stabilized for a 10-year warranty against UV breakdown for black netting. Heavy Duty Bird Netting is the #1 recommended solution for birds nesting in residential and commercial settings. Read more about Bird B Gone's Netting options for commercial applications, how to choose and install netting.
2) Best for Birds Nesting Under Solar Panels
Rooftop solar panels create an ideal environment for pigeons and other pest birds to nest and roost. The panels provide shade from the hot sun, security from predators, and an easy in-and-out vantage point for birds. What's more, birds can be incredibly persistent, especially if they've nested under solar panels the previous season. Since most solar panels are usually just 8″ off the roof deck, removing nests and droppings can be a challenge.
Bird B Gone's Solar Panel Bird Deterrent Kit includes a weather resistant mesh that effectively blocks pest birds from nesting or roosting under the panels. Installation is a snap, thanks to specially designed clips that will not scratch or affect the integrity of the solar panels. There's no drilling, and the mesh is virtually invisible when installed.
3) Best solutions for Nesting Swallows
Swallows are arguably one of the most difficult protected migratory birds to properly stop from nesting. Although most professionals will recommend ¾" Bird netting to exclude the birds, our experts also have easy to use DIY solutions for nesting swallows. One of the few items specifically designed to block swallows from building their mud nests in unwanted areas is the Swallow Shield Kit swallow and bat deterrent. Pairing the swallow shield deterrents with an active bird repellent such as Avian Block Pouches will help drive those migratory birds away from your home to nest.
4) Best For Small Crevices & Holes - Keep Birds from nesting with Copper Mesh
Ideal for keeping both large and small birds out of small crevices, holes and nooks in your home, Bird-B-Gone's Copper Stuf-Fit mesh is easily "shaped" to seal out pest birds. The mesh comes in 6-inch wide, 20-foot & 100-foot rolls. It's also rustproof and stain proof (steel wool will rust, run and stain your carport). Copper Stuf-Fit even keeps birds from working their way under roofing shingles and nesting around conduit and lighting fixtures.
5) Best for Birds Nesting on Ledges - Bird Slope
Ideal for birds nesting on flat ledges, Bird Slope creates a slanted 45 degree angled surface where birds can no longer nest on. Bird B Gone Bird Slope is available in two color options, gray. The angled surface of each 4-ft long section protects ledges with a depth of up to 5.5". With the addition of the Bird Slope Extenders, the depth can be increased to up to 10.5" deep. Slope is a fantastic option for both the residential and commercial customer.
6) Best For Birds Nesting In Dryer Vents
The Defender Dryer Vent Guard is the perfect solution for when birds nest in dryer vent openings. The vent guard comes in several sizes and easily mounts to protect the opening from birds nesting inside. Removing the nests from the vent may require the assistance of a pest control professional.
Alternative Bird Control Solution to Help Prevent Birds from Nesting
The following methods are recommended primarily as preventative methods for non-existing problems. If birds are currently or have previously nested on your house, we recommend referring back to the solutions listed above.
The items below are most effective at preventing birds from nesting prior to the problem occurring. Cleaning the area thoroughly of bird droppings and nesting remains is one of the most important steps prior to incorporating the following bird control methods. When birds nest, they are attracted to their pheromones which are found in their droppings and nesting material.
1) Avian Block Bird Repellent Pouches
Using a quality bird repellent such as Avian Block Pouches help repel birds using smell. Avian Block Pouches utilize concentrated grape seed extract, otherwise known as methyl anthranilate, to repel birds. Methyl Anthranilate is commonly used as a grape flavoring at low concentrations but at high concentration levels repels birds. To people the aroma has pleasant grape scent but to birds the smell alone is enough to trigger the birds to flee the area.
2) Install Stainless Steel Bird Spikes where Birds Often Perch
Birds will often perch to test out a nesting site. Installing bird spikes will keep them from perching on beams and other areas. Available in four different widths—1-, 3-, 5- and 8-inch—Bird B Gone Stainless Steel Bird Spikes provide increasingly wider areas of pest bird deterrence. The base of these spiked strips is just 1.5 inches wide, so they can easily be installed on very narrow surfaces. A built-in glue tough and pre-drilled mounting holes allow for fast, easy installation. The spiked strips can be affixed to any surface using commercially available glues, screws or tie downs. A flexible base—which bends a full 360 degrees—allows the spiked strips to easily follow a variety of curved exterior surfaces. A patented "bend and crush" design keeps the spikes embedded in an unbreakable UV-protected polycarbonate base.
3) Clamp in Gutter Spikes to Keep Rain Gutters Clear
Bird-B-Gone's Gutter Spikes won't allow pest birds to land on or near them—birds can't even land on the gutter edges. The spikes are also ideal for keeping birds away from drain areas. Specially designed for easy installation—in virtually any size gutter—the spiked strips come in two-foot long sections, each four inches wide, and in six-foot and 50-foot lengths. Whether your rain gutters are seamless, bonderized, copper, aluminum, steel or vinyl, installing Gutter Spikes is simple and straightforward. Each section includes clamps along the base, which hook right up to the lip of the gutter. Every two-foot section has three "C" clamps to create a secure mount. The clamps are thumbscrew adjustable and will adapt to both wide and narrow gutters. Once installed, the bird spikes are virtually invisible.
4) Create a Sense of Alarm with Visual Deterrents
Simple but surprisingly effective, Bird Be Gone Visual Pigeon Deterrents are easy to install and inexpensive. There's Flash Tape, an iridescent foil tape that crackles in the breeze and reflects sunlight to keep pigeons away (the mirrored red-and-silver surface bounces sunlight, which convinces pigeons there may be a fire nearby). There's also Bird B Gone's inflatable "beach-ball" size Bird Scare Balloon, which features a large, mock predator eye to spook pigeons. Sporting an equally intimidating predator eye is the tear-drop-shaped Scare Eye Diverter. When these deterrents twist and bob in the breeze, they are perceived as life-like predators.
5) The Sound Solution - Sonic Deterrents
Birds hear sounds far more efficiently than we do. The Bird Chase Super Sonic is a specially designed sound-based system that keeps birds on alert and reluctant to build a nest. It broadcasts pre-recorded distress and predator calls for as many as 22 species of birds. The device can set it to scare off a specific bird or placed on a "general" setting to scare all birds. The bird distress and predator calls are repeated every 10 minutes, and the device can be programmed to turn on or off at night. A volume control allows the sound intensity of birdcalls to be adjusted—from 65-105 decibels. The sounds resemble normal birdcalls, so they will not bother pets or people. Yet unlike ultrasonic bird deterrents, which birds can't hear, the Bird Chase device emits sounds within a bird's hearing range, making it highly effective.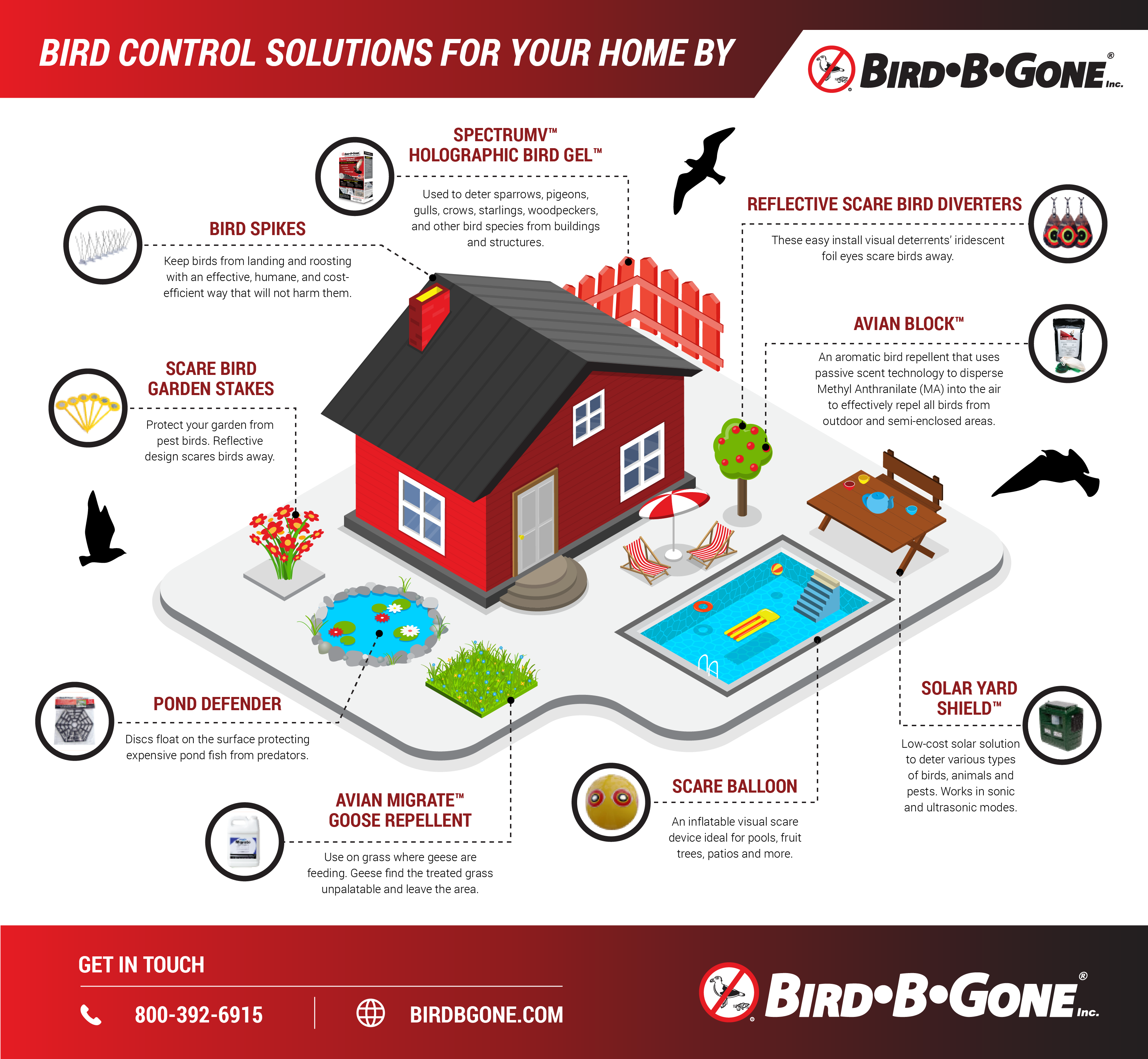 Ask the Experts at Bird B Gone
Our expert team has bird control professionals located across the United States happy to help those in dire need of pest control. If you are experiencing nesting birds out of your control, Request an Authorized Installer of Bird B Gone. Our network of trained professionals are ready to help keep those birds from nesting at your house. Just let us know what type of bird, where they are nesting and how many birds are nesting. Our team will locate a qualified professional near you!