Effective Bird Control for the Maintenance Industry
Maintenance departments and facility managers spend lots of time and money dealing with pest birds. Cleanup and repairs often tax already strained maintenance budgets. The problems caused by pest birds often take valuable manpower away from other needed maintenance jobs.
Cleanup Issues
Bird droppings can become an ongoing cleanup job as these contaminants must be removed, if for no other reason than unsightly appearance. In some cases, bird droppings must be removed using special cleansers and sanitizers. Dried bird droppings pose an inhalation hazard for workers. In either case, removal of this waste calls for maintenance personnel wearing PPE (Personal Protective Equipment).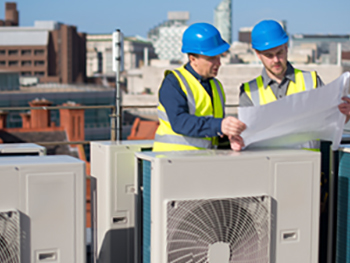 Damage & Repair Issues
Birds building nests can damage roofs and rooftop equipment. Bird droppings and nesting materials can also damage rain runoff systems. Compromised drainage systems have led to extensive rood repairs and even collapsed roofs. The acidic nature of droppings can "eat" into and permanently damage steel, plastic, glass, roofing materials, seals, solar panels, skylights, gutters, air vents and electrical wiring. Bird nesting materials also make excellent kindling and many sites have caught fire when heated bulbs or electrical wiring came in contact with feathers and twigs in bird nests.
Health & Safety Issues
Pest birds can carry any of 60 transmittable diseases—including Histoplasmosis and West Nile Virus. Left to gather on roofs, AC units and rooftop vents, dried bird feces can quickly build up and enter buildings through AC vents and cause respiratory problems for anyone inside. Birds often build nests in and around ventilation systems, not only spreading disease but blocking airflow to the building, resulting in a dangerous build up of carbon dioxide inside. Bird droppings can also be very slippery when wet, creating dangerous slip-and-fall hazards.
Preferred Bird Control Tactics
Some maintenance managers may already have access to special tools and lift equipment, so any proactive approach is preferred over waiting too long before implementing bird controls. The longer you wait, the harder it will be to get rid of pest birds.
Why Specify Bird B Gone
Bird B Gone products are specified by more architects and engineers than any other bird control products in the industry. They are easy to specify using our CAD details in two formats—DWG and PDF (if you need the file in a different format, let us know). We also offer our 3-part specifications to drop into your project specs.
Bird Controls to Match Your Need
Every bird problem is different. Bird B Gone can help you select the right bird deterrent based on the bird species, area where they are posing a problem, and whether or not the birds are nesting. Bird controls most often recommended for maintenance managers include:
Bird Net 2000. Recommended for excluding pest birds from overhangs and other semi-enclosed areas, Bird Net 2000 3/4" mesh netting creates a physical barrier that won't allow birds to land or nest. The netting is easy to install using Bird B Gone's complete line of professional grade installation hardware.
Stainless Steel Bird Spikes. Available in 1-, 3-, 5- and 8-inch splay widths to provide increasingly wider areas of protection, these rugged spiked strips feature a patented "bend-and-crush" design, which means the spikes are firmly embedded in an unbreakable UV-protected polycarbonate base. This flexible base bends a full 360 degrees, so it can easily "follow" a variety of curved mounting surfaces.
Bird Jolt Flat Track Kit. This low-profile, electric track system produces a harmless electric shock that "educates" pest birds to stay off horizontal surfaces.Lightweight and flexible, the track is easy to install—it bends 360° without compromising its electrical integrity. It's the only electric track bird deterrent system with patented anti-arcing and glue troughs designs for improved safety and performance.
Bird Slope. This physical bird deterrent blocks birds from landing or nesting in 90° areas, such as open ledges or eaves. Effective for deterring all birds, each sloped section is 4 feet long and will cover a ledge up to 7" wide. Extenders are available for wider ledges. The panels are made of UV- protected PVC to ensure sun and weather resistance.
Expert Assistance
If you're unsure about which product would work best for your specific situation, Bird B Gone has over 80 years of combined experience in the field of bird control. We can help you with product selection, installation and cleanup. Just call us at (888) 570-0360 for a catalog, pricing, or product samples or email us at nobirds@birdbgone.com. We also work with a network of authorized installers, call today for a trained bird control professional in your area.