Iowa Bird Control
Ridding Iowa of Pest Birds
The Hawkeye State has a diverse set of pest bird problems. Threatening Iowa as the leading producer of eggs in the nation is the recent outbreak of the bird flu virus. This highly infectious and deadly disease will result in 3.8 million hens being destroyed. Experts note that the virus is carried by wild birds.
Over 33 million birds have been affected by the highly pathogenic avian flu outbreak, impacting thousands of jobs. The problem has become so severe that Governor Terry Branstad asked President Barack Obama to declare a disaster event for Buena Vista, Sioux, Webster and Wright counties, the hardest hit by bird flu.
Iowa also has a crow problem. The black birds have blanketed downtown Iowa City with poop, especially along the pedestrian mall. The crow infestation has only been getting worse according to city officials and business owners who say they have to sidestep crow droppings every evening after work.
Then there are the bats, which have been found throughout Cedar Rapids in the Linn County Courthouse, Iowa churches, and many houses throughout Linn County.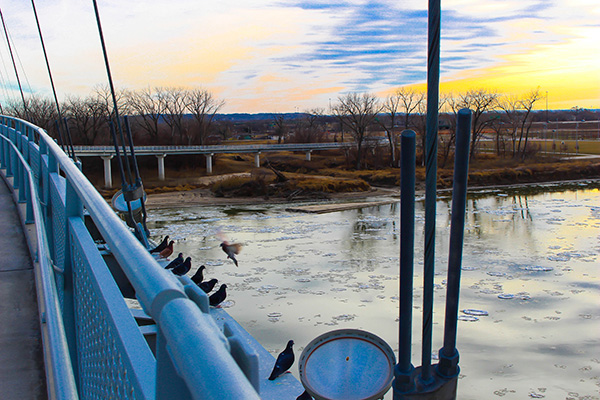 Here's what the bird control experts at Bird B Gone recommend to solve Iowa's bird problems:
For Wild Birds
The Bird-Hazing System releases a light
haze of EcoBird 4.0. Made with Methyl Anthranilate, a non-toxic, EPA approved food-grade ingredient irritates a bird's mucous membranes, forcing them to leave.
For Crows
Ideal for deterring as many as 22 different species of birds, Bird B Gone's Solar Bird Chase Super Sonic broadcasts distress and predator calls that intimidate birds.
For Bats
The Sonic Shield™ uses a motion sensor to detect any bat crossing its zone of protection, activating flashing LED lights and loud barking dog sounds to create an effective deterrent.
Bird-B-Gone offers the largest network of authorized bird control installers in the Nation. We have installers in every state that have been trained on all aspects of bird control, from bird behavior to which products to use for your particular bird problem. Bird B Gone Authorized Product Installers have successfully completed our rigorous training at Bird B Gone University and are certified to install our professional grade bird deterrents.
Need an installer? Call us today for a bird control product installer in your area
(800) 392-6915